Work commences on 'landmark' Inis Cealtra Visitor Experience project
31 October 2023
The most significant tourism project ever to be undertaken in East Clare has moved a step closer following the signing of a contract for the development of the Inis Cealtra (Holy Island) visitor centre in the heart of Mountshannon village.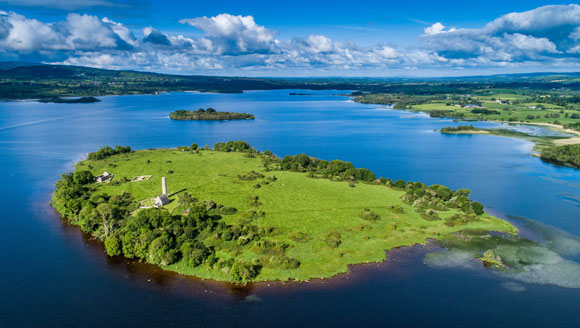 Overlooking Mountshannon Harbour and Lough Derg, the Old Rectory is an historic period house dating from 1905 and is set to repurposed and extended into a visitor and interpretative centre for Inis Cealtra (Holy Island).

Clare County Council today signed a contract with M. Fitzgibbon Contractors Ltd for the redevelopment of the visitor centre building, which, once completed in 2024, will comprise a revitalised exhibition area that interprets local stories and the island of Inis Cealtra, a reception area, an upstairs café and rectory garden.
The successful funding awarded for this project, which includes the repurposing of the Old Rectory as well as waste-water optimisation works and public realm works at Mountshannon, is €4,290,765 from the Department of Rural and Community Development as part of RRDF Category 1 funding, with an additional 20% match funding committed from Clare County Council.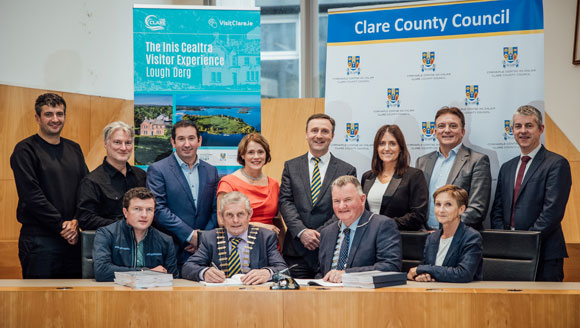 With important links to the last High King of Ireland Brian Boru, Inis Cealtra is one of the most important historical and ecclesiastical sites in Ireland with additional links to other religious sites and heritage attractions, such as Tuamgraney and Craggaunowen. Still used as a burial ground, the ruins and buildings still standing on the island date back to the 7th century when the monastic site was established by St Caimin. Buildings on the island include a 24-metre-high Round Tower, an Oratory, and several churches.
Having taken 41 acres on the island into public ownership in 2015, Clare County Council acquired the Old Rectory building in 2021. The Local Authority has confirmed that plans to enhance access to and interpretation on the island, including upgrades to island and mainland access, the introduction of wayfinding infrastructure and the provision of public car parking facilities as well as future proofing an expanded visitor centre. All of these plans will be submitted to An Bord Pleanála during the first half of 2024.
Cathaoirleach of Clare County Council, Cllr Joe Cooney, commented, "This landmark visitor attraction will complement the Local Authority's ongoing work to establish and promote all of County Clare as an all-year round destination. The project has received enormous support from the local community due to the social and economic potential of the project for the village and wider East Clare area. The Tourism Department of Clare County Council and the design team have delivered a project plan that everyone in Mountshannon can be rightly proud of, and I look forward to the opening of this fantastic new visitor facility next year."
"Having acquired the Island in 2015 and working closely with the Office of Public Works, it has been a priority of Clare County Council to deliver and fast track a visitor centre, which can interpret the island and environs. Government support from the Department of Rural and Community Development has enabled Clare County Council to proceed with this milestone tourism project for East Clare that will deliver significant benefits to Mountshannon and the wider economy and will add significantly to the county's suite of tourism attractions," explained Pat Dowling, Chief Executive of Clare County Council.
He continued, "Clare County Council is proud of its track record of delivering infrastructure and initiatives that spread the economic benefit of the tourism economy to all parts of County Clare. Our ambition is to deliver an iconic visitor experience that raises the profile of the Lough Derg Region, which can sometimes be overlooked by visitors to Clare due to the absence of a headline visitor attraction, and introducing one of Ireland's most important and historically significant ecclesiastical sites to a national and international audience."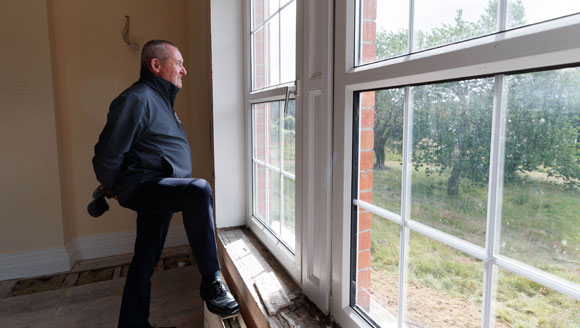 Leonard Cleary, Director of Tourism Development with Clare County Council, said the commencement of work on the Old Rectory represents an exciting milestone after three years of detailed preparatory work by the Local Authority's Tourism Department.
"Collaboration and a positive working relationship with key supporting agencies, Elected Members and the local community have been critically important to advancing this project and will be key to progressing the next phase of the development, including the upgrade to Mountshannon Harbour, mooring facilities on the island and the upgrade of walkways on the ecclesiastical site," he added.
"Working with colleagues in neighbouring Local Authorities of Galway and Tipperary and with Waterways Ireland as well as Fáilte Ireland, we are confident this project will be a key catalyst project within both the Shannon Tourism Masterplan and Lough Derg Destination Experience Development Plan," stated Mr Cleary.
Outlining the background to the project, Deirdre O'Shea, Clare County Council Head of Tourism, said, "The County Clare Tourism Strategy 2030 sets out to support the sustainable development of Clare as a resilient destination that incorporates our trails, waterways and islands, our majestic seascapes and distinctive landscapes, our built heritage, beaches, and golf courses, and every town and village. It's all about spreading the economic benefit of tourism and working with communities to ensure that visitors enjoy a rounded experience of what County Clare has to offer."
"This project seeks to conserve Inis Cealtra as a significant historical, ecclesiastical, archaeological and cultural site; as well as expand its attractiveness as a sustainable tourism destination and, in so doing, address population decline and rural deprivation by providing social and economic benefits derived from tourism for East Clare and the wider Mid-West region," concluded Ms O'Shea.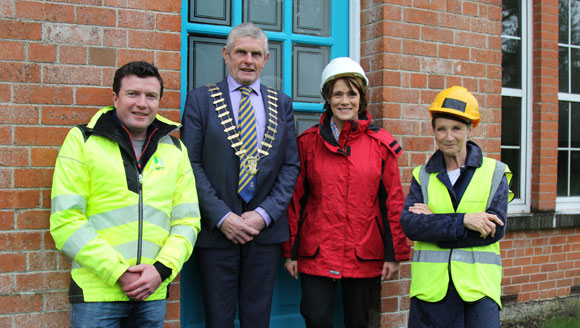 The Old Rectory – Inis Cealtra Visitor Experience is a collaborative project involving Clare County Council, Ireland's Hidden Heartlands (Fáilte Ireland), Waterways Ireland, the OPW and National Monuments Service and National Parks and Wildlife Service. The project has been advanced in recent months by a highly skilled award-winning multi-disciplinary team including McCullough Mulvin Architects, Tobin Consulting Engineers (Quantity Surveyors/Project Managers), Tandem Partners Ltd (Interpretation/Visitor Experience Designers) as well as sub-consultants including Malachy Walsh and Partners (Civil & Structural, Mechanical & Electrical, Ecology), Mitchell and Associates (Landscape Architects), Aegis Safety Management (Project Supervisor Design Process), Archaeological Projects Ltd (Project Archaeologist), McCutcheon Halley (Planning & Environment Consultant), Amion Consulting Ltd (Business Planning Services), Design Works (Brand Strategy and Identity), and Cognisense Ltd (Market Research Services).
Visit https://www.clarecoco.ie/ for more details.
Captions:
(1): Inis Cealtra (Holy Island) on Lough Derg in County Clare.
(2): Pictured at Áras Contae an Chláir in Ennis, County Clare, for the contract signing for the Old Rectory – Inis Cealtra Visitor Experience project, were: (back row, left to right) Brendan Costelloe, McCullough Mulvin Architects; Aldo Andreucetti, General Design Office, Clare County Council; Thomas MacKey, Tobins Consulting Engineers; Joan Tarmey, Tourism Officer, Clare County Council; Leonard Cleary, Director of Tourism Development, Clare County Council; Deirdre O'Shea, Head of Tourism, Clare County Council; Stephen Hanley, General Manager, Clare Tourism Development (East); Brian McCarthy, Senior Planner and Co-ordinator, Killaloe Municipal District; (front row, left to right) Michael Fitzgibbon, Contractor; Cllr Joe Cooney, Cathaoirleach, Clare County Council; Cllr Pat Hayes, Leas Cathaoirleach, Killaloe Municipal District; Valerie Mulvin, McCullough Mulvin Architects. Photo: Brian Arthur.
(3): Clare County Council Chief Executive Pat Dowling looks toward Inis Cealtra and Lough Derg from the Old Rectory in Mountshannon village, which is undergoing redevelopment to facilitate a visitor centre and interpretative building as part of the Old Rectory - Inis Cealtra Visitor Experience project. Photo: Eamon Ward.
(4): Pictured at the Old Rectory initial design team meeting in Mountshannon, County Clare, ahead of its redevelopment and extension as a visitor and interpretative centre for Inis Cealtra (Holy Island), were: (left to right) Michael Fitzgibbon; Cllr Joe Cooney, Cathaoirleach, Clare County Council; Joan Tarmey, Tourism Officer, Clare County Council; and Valerie Mulvin, Mc Cullough Mulvin Architects. Photo: Neil Hynes.
Page last reviewed: 31/10/23
Back to top
This is just for feedback on our web site, not comments or questions about our services.
To tell us about anything else, go to our contact us pages.