New Publication Explores Past, Present and the Future of Farming in County Clare
31 October 2023
Traditional farming practices, the importance of the family farm, social isolation, and the advent of online marts are amongst the themes that have emerged in the 'Clare Farmers Weaving Stories Together' initiative.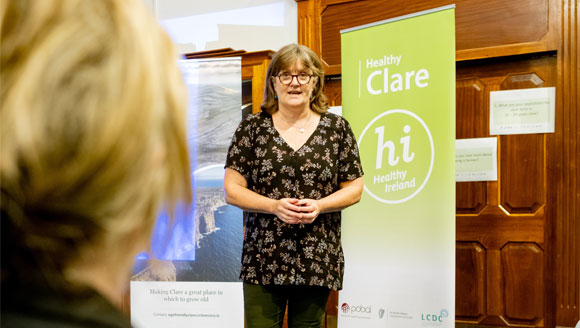 As part of the Creativity for Wellbeing project, a 'Clare Farmers Weaving Stories Together Booklet' was created and captures the visual stories of 5 mart areas in Clare, namely Sixmilebridge, Ennis, Kilfenora, Kilrush, and Scariff. The booklet will be launched at glór in Ennis as part of a free Health and Wellbeing Expo for the local farming community on Monday 13th November from midday to 3.00pm.
The event is organised and supported by Clare County Council's Healthy Clare, Age Friendly Clare, and Creative Clare programmes in partnership with Cuimhneamh an Chláir / Clare Memories, the Irish Farmers' Association (IFA) Clare, and the HSE's Mid-West 'Connecting for Life'. Guest speakers on the day include Finola Colgan from Mental Health Ireland's Farming Resilience Project, while more than 20 community, charity and State organisations will host health and wellbeing information stands at the venue.
Cllr Joe Cooney, Cathaoirleach of Clare County Council, said the new publication and upcoming event in Ennis will shine a light on the present and future needs of farmers and takes account of their lived experiences in the sector.
"I warmly welcome the launch of this new booklet as it reflects on Clare's rich agricultural heritage, captures a moment in time, and focuses on the challenges and opportunities for the years ahead," added the Cathaoirleach.
A wide range of organisations will host health and wellbeing information stands at the upcoming Expo including Embrace Farm, Age Action, Family Carers Ireland, HSE – National Office of Suicide Prevention, IFA Clare, An Garda Siochana, Alzheimer Society of Ireland, Clare Suicide Bereavement and Sláinte an Chláir.
According to Pat Dowling, Chief Executive of Clare County Council, "Clare is a rural county with a rich agricultural heritage as typified by the majestic stone wall bordered fields and its traditional farm buildings. Our farmers are the backbone of local communities and creativity projects like this are important for keeping them healthier for longer.
Mr. Dowling thanked Cuimhneamh An Chláir, led by Paula Carroll, for their participation in the project and for the group's "ongoing work in collecting and safeguarding the oral history and folklore of County Clare, ensuring that this important information is kept alive for future generations to enjoy."
Dena McGrath, Healthy Clare Co-Ordinator said: "Farming is never a 'nine-to-five' job. It is often unpredictable, demanding and hazardous. Research shows that mental health challenges and suicide are continually reported as major concerns for those actively employed in the Irish farming sector. And relative to other occupational groups, farmers experience a higher burden of health problems."
She continued: "This is why when the opportunity to do a creativity for wellbeing project arose, we decided to target our farming community here in Clare. Everyone needs a creative outlet, both for their physical and mental well-being be it crafting, dancing, drawing, painting and playing music. For this project, with farmers we utilised the art of conversation, creating visual stories to compliment it so that too could be used as a platform for further conversations. I recommend everyone picks up the booklet and see for themselves the creative magic that occurred in each mart area."
Paula Carroll, Project Coordinator, Cuimhneamh an Chláir, commented: "It was a joy to work with Dena and the Healthy Clare team on this initiative. We had 5 nights of great conversations with farming communities around the county. The work of Cuimhneamh an Chláir is to document the oral histories of Co. Clare, and we always note a sense of empowerment and enjoyment when people begin to tell their own stories. This collaboration with Healthy Clare reminded us yet again that telling your story, and feeling heard, is an important foundation of mental, social and community health."
Caroline Lynch, IFA Clare's Farm Family, said: "It has been a delight to hear the amazing and varied recollections from the men and women of Clare's farming community; and the inspired graphics have brought their stories to life. I hope the success of this farmer targeted wellbeing initiative will be a catalyst for more creative, innovative and collaborative projects for both farming and rural communities in the future."
The 'Clare Farmers Weaving Stories Together' booklet will be officially launched by Jim Finn, presenter of Clare FM and Tipp FM's Farm Focus Show, on Monday 13th November 2023 at glór, Ennis, County Clare. Free tickets for the booklet launch and Health and Wellbeing Expo can be booked at: https://yoursay.clarecoco.ie/farmers-weaving-stories-together.
For further information contact Dawn on 065 6846276 or agefriendlyclare@clarecoco.ie.
Captions:
(1): Paula Carroll of Cuimhneamh an Chláir addressing farmers at a 'Weaving Stories Together' session in Ennis.
(2): (L-R): Ester and Nina Blodeau (Graphic Harvesters); Geraldine Greene, Paula Carroll, Cuimhneamh an Chláir; and Billy Cusack, Helen Moloney and Dena McGrath, Clare County Council, supporting the Creative Farmers Weaving Stories Together Project in Ennis.
(3): Paula Carroll of Cuimhneamh an Chláir pictured with farmers at a 'Weaving Stories Together' session in Kilfenora.
Photos: Paul Corey.
Page last reviewed: 02/11/23
Back to top
This is just for feedback on our web site, not comments or questions about our services.
To tell us about anything else, go to our contact us pages.