New 'Adventure Lough Derg' app welcomed by Clare County Council
12 July 2021
Clare County Council has been working closely with Fáilte Ireland and colleagues in Tipperary and Galway County Councils on a new visitor experience for the Lough Derg region, which will run throughout summer and autumn 2021 called 'Adventure Lough Derg'.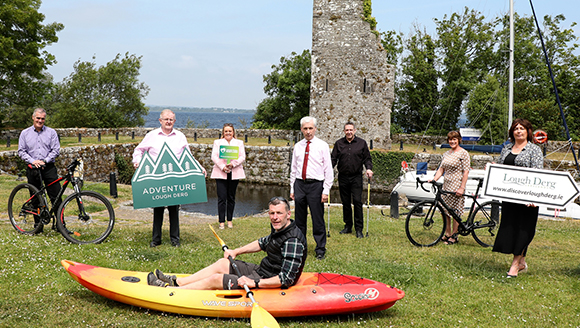 A special app has been launched with a series of 12 weekly outdoor challenges suitable for all ages which will appeal to families as well as adventure seekers. This is a special initiative from the Destination Lough Derg Task Force in the face of a tourism crisis brought about by the Covid-19 pandemic.
Cllr Joe Cooney, Cathaoirleach, Killaloe Municipal District, said: "I warmly welcome Adventure Lough Derg. There is so much to do in the Lough Derg region nestled in Ireland's Hidden Heartlands, and it is so important that we inspire visitors with new ideas and outdoor challenges to elevate the visitor experiences in Clare, Galway and Tipperary. It is all about showcasing what we have on our doorsteps, and engaging the visitor in a fun and safe way, and this initiative certainly ticks all the boxes."
Cllr Cooney continued: "Tourism providers, community groups, visitors and locals alike can download the Adventure Lough Derg app, available from the App Store and Google Play, and become familiar with all the adventures so that they can recommend and promote them. All the adventures are free to participate in. It is wonderful to see the level of interest in Adventure Lough Derg already and I wish the initiative every success over this summer and autumn." 
There are 12 outdoor challenges suitable for all ages, with a different adventure uploaded each week. There are great weekly prizes of local artisan craft and design up for grabs. The app guides you through the adventure to completion and you have the option of entering the competition at the end of the adventure. To enter the weekly competition, participants can upload photos and videos to the app for that adventure. You will then be in with a chance to be nominated the 'Adventurer of the Week'. The first event went live from 5th July and will continue each week with 12 amazing adventures.
There are 26 other running, walking and cycling routes from across the region uploaded to the app, so users who take part in the weekly adventure can explore other routes in the region too. There is so much on offer.
Joanne Dunphy Allen, Co-Chair of Mountshannon Community Council, explained: "We are delighted that our beautiful village of Mountshannon will feature in the Dolmen Hop adventure on Week 2. The adventure starts in the middle of the maze in our wonderful community park – Aistear Park – and you make your way on foot to Bohatch Dolmen. There will be lots of fun and excitement and our visitors will be reassured being guided by the app."
Ms Dunphy Allen continued: "There are some gorgeous eateries in Mountshannon and we even have a Blue Flag marina too. So it is time for us to showcase to visitors and locals alike the hidden gems all around the Lough Derg region and here in Mountshannon. The new Adventure Lough Derg app will take new visitors to our doorstep, and it's our job to inspire them to stay another night and return another day. We need to tell them about all the wonders and joys of Lough Derg. It's an exciting initiative." 
Oliver Kirwan from Elite Management said: "We have been working with Fáilte Ireland and the three local authorities of Clare, Tipperary and Galway to develop the exciting Adventure Lough Derg app. It has involved a few challenges along the way ensuring the technology is user friendly and records the adventurer as they progress through the challenge. There is great excitement out there, and we are thrilled to bring this technology to the visitor in a fun and interactive way that will inspire visitors to enjoy all that the Lough Derg region has to offer."
A full list of the 12 amazing adventures in three counties and further information can be found by visiting the Visit Clare website. 
You can also visit the Discover Lough Derg website.
The Adventure Lough Derg app is available to download from the App Store and Google Play.
Caption:
Pictured at the launch of the 'Adventure Lough Derg' app in Garykennedy on 1st July were (l-r): Damien McWeeney (Waterways Ireland), Tony Dawson (Fáilte Ireland), Michelle Kavanagh (Abbey Court Hotel, Nenagh), Oliver Kirwan (Elite Management), Joe McGrath (Tipperary County Council), Paul Dillon (Portumna Chamber of Commerce), Joan Tarmey (Clare County Council) and Sinead Cahalan (Tipperary County Council).
Page last reviewed: 12/07/21
Back to top
This is just for feedback on our web site, not comments or questions about our services.
To tell us about anything else, go to our contact us pages.