Joint statement from Cllr Mary Howard and Cllr Patrick O'Connor-Scarteen on the closure of Aer Lingus cabin crew base at Shannon Airport
25 May 2021
Cllr Mary Howard, Cathaoirleach of Clare County Council, today hosted Cllr Patrick O'Connor-Scarteen, Cathaoirleach of Kerry County Council, at Áras Contae an Chláir in a meeting of the Alliance of Mayors and Cathaoirligh to consider the decision by Aer Lingus to close its cabin crew base at Shannon Airport.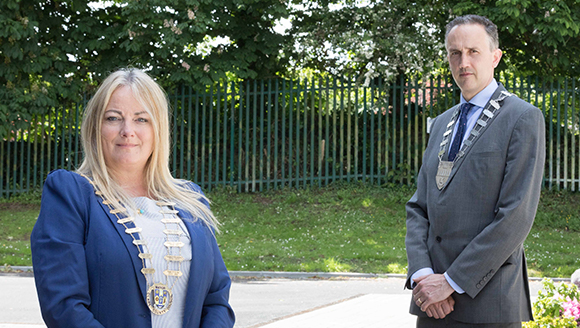 The Alliance is comprised of the Mayors and Cathaoirligh of Clare County Council, Galway City Council, Galway County Council, Limerick City and County Council, Tipperary County Council and Kerry County Council.
Today's meeting follows a very productive Special Meeting of Clare County Council yesterday (24th May, 2021), which was attended by all seven Clare Oireachtas members.
In a joint statement, Cllrs Howard and O'Connor-Scarteen said:
"We are appealing to Government to do everything possible to ensure a strong Aer Lingus presence continues at Shannon Airport.
"The Alliance of Mayors and Cathaoirligh has some serious concerns regarding the decision to close the cabin crew base in Shannon and the way that this message was delivered to loyal Aer Lingus staff with many years of service.
"Ireland is an island nation, and we need to ensure continued international connectivity, especially with the west coast of Ireland.
"The connectivity that Aer Lingus brings is critically important to every aspect of our lives, and has particular strategic importance for tourism, enterprise and industry.
"It is now essential that we secure guarantees that the Shannon-Heathrow slots will continue with early-morning departures and late-evening arrivals.
"These slots must continue beyond 2022, given their importance for economic development within the region.
"We need guarantees that the Shannon-New York and Shannon-Boston routes will be reinstated as soon as possible. We also need clarity on the two proposed routes from Shannon to Paris and Barcelona that were announced in November 2019 to commence in 2020.
"We will push the Government to impress upon Aer Lingus the importance of reversing the decision to close its base in Shannon, and to seek guarantees about these key strategic routes in future discussions with Aer Lingus.
"We call on the Government to produce an integrated national aviation policy and a roadmap for the future of aviation."
ENDS
Note to editors:
The members of the Alliance of Mayors and Cathaoirligh are: Cllr Mary Howard, Cathaoirleach, Clare County Council; Cllr Patrick O'Connor-Scarteen, Cathaoirleach, Kerry County Council; Cllr Mike Cubbard, Mayor of Galway City; Cllr James Charity, Cathaoirleach, Galway County Council; Cllr Michael Collins, Mayor of the City and County of Limerick; and Cllr Michael Smith, Cathaoirleach, Tipperary County Council.
Page last reviewed: 25/05/21
Back to top
This is just for feedback on our web site, not comments or questions about our services.
To tell us about anything else, go to our contact us pages.