Irish Water to begin mains rehab works ahead of public realm enhancement project
26 April 2022
In advance of the Public Realm project, Shareridge Engineering will be commencing works in Ennis town centre from May 16th, 2022, and continuing on a phased basis until early September 2022.  These works are being carried out on behalf of Irish Water and will involve the replacement of aged watermains at High Street, Bank Place, O'Connell Square and O'Connell Street, to provide a more reliable water supply, reduce high levels of leakage and improve water quality.  Additionally, new electrical cabling infrastructure will be installed throughout the town centre at the same time.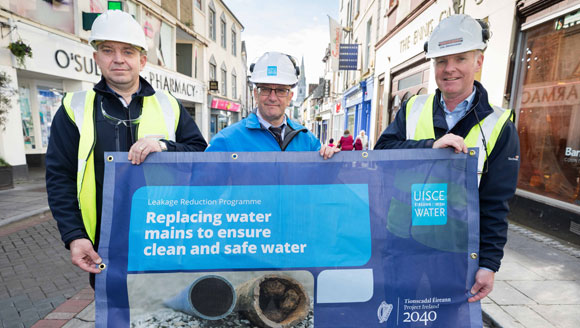 The works, which are being carried out as part of Irish Water's National Leakage Reduction Programme involve the replacement of over 680m of aged cast iron watermains with new modern pipes.  This is a continuation of the works successfully completed on Parnell Street in 2019.
Unfortunately, this will result in disruption in the town centre and the necessity for traffic diversions.   We do regret this inconvenience which is necessary and unavoidable.  Following these works, a Clare County Council appointed Contractor will commence on the Public Realm works which will also be carried out on a phased section-by-section basis. We will be engaging further with the Business Community and other interested stakeholders in advance, again with a view to minimising and mitigating inconvenience and disturbance. It is hoped that all will consider that the longer-term benefits will outweigh the shorter-term disruption and we are available at Council offices to discuss any particular issues or concerns that the public may have in this regard. 
Areas of work will be limited to short sections to minimise impact on customers and businesses near the works.  O'Connell Street will be closed to through traffic for a period of the works, however deliveries and associated services will be facilitated for the duration.
The works may involve some short-term interruptions to the water supply. The project team will ensure that customers are given a minimum of 48 hours' notice prior to any planned interruption.   
For construction related queries, Shareridge Engineering can be contacted at info@shareridge.ie / phone 094-902 4663. 
Irish Water's customer care helpline is open 24/7 on 1800 278 278 / Twitter @IWCare with any queries. For updates, please visit the Water Supply Updates section of the Irish Water website or set your location on our website www.water.ie
Caption: (L-R) Siarhai Nemich, Shareridge Ltd., Gerry O'Donnell, Irish Water and Brian Duggan, Shareridge Ltd. 
Page last reviewed: 10/05/22
Back to top
This is just for feedback on our web site, not comments or questions about our services.
To tell us about anything else, go to our contact us pages.