Have Your Say On The Emerging Ideas For The Sixmilebridge Town Centre First Masterplan
27 April 2023
Under the Town Centre First initiative, Clare County Council is preparing a vision and plan for the future of Sixmilebridge Town Centre.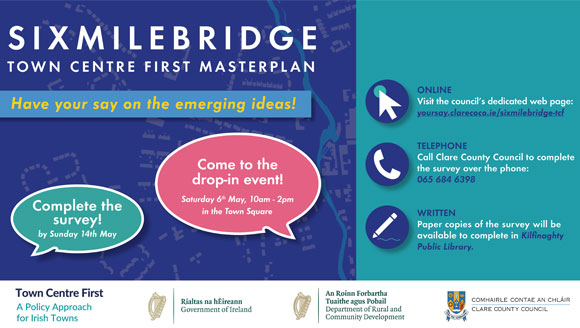 The aim of this masterplan is to set out a clear vision and an enabling framework for the future direction of the town's development, encompassing 'place-making', town centre living, the social and economic purpose of the town, the reactivation of key sites as well as addressing vacancy and dereliction within the town centre. The masterplan will not be a fixed blueprint but will set out a range of potential opportunities.
A local representative 'Town Team' has been formed to act as a steering group and lead out on key projects and actions identified within the masterplan, with the support of the Local Authority, the Town Regeneration Officer and other key agencies.
Your input is vital to these exciting plans.
In 2022, the appointed consultants for this project gathered the views and aspirations of the local community during various stages of public consultation and engagement. Using this feedback, and the community's analysis of the town, the consultants have now developed a set of themes, emerging ideas and potential projects for the plan.
Clare County Council is now seeking your feedback on these emerging ideas for the town.
You can share your views in three ways:
Complete a survey by going to Clare County Council's "Have Your Say" consultation portal at yoursay.clarecoco.ie/sixmilebridge-tcf where there is a page dedicated to the Sixmilebridge Town Centre First Masterplan.
Visit the Kilfinaghty Public Library, Church Street, Sixmilebridge, Co. Clare, V95 PX03 to complete a hard copy of the survey.
Come to a Community Drop-In Event in Sixmilebridge Town Square on Saturday 6th May, from 10.00am until 2.00pm, where you will be able to speak with the consultants and meet Clare County Council representatives.
Once the above feedback has been collated, a final draft masterplan will be prepared and presented to the Town Team. A Strategic Environmental Assessment (SEA) and Appropriate Assessment (AA) screening exercise is currently being undertaken on the emerging plan and the resulting report will accompany the final masterplan. This final plan will also be shared on the Clare County Council website, following the consultation process.
If you have any other thoughts or feedback on the emerging ideas, please send them by:
or in writing to:
Sixmilebridge Town Centre First Masterplan, Economic Development Directorate, Clare County Council, Áras Contae and Chláir, New Road, Ennis, Co. Clare. V95 DX92
This stage of the consultation will be open between Friday 28th April and 5.00pm on Sunday 14th May.
Please note that submissions or observations received are subject to meeting requirements under relevant data protection legislation. All submissions/observations will be subject to Freedom of Information legislation.
Page last reviewed: 27/04/23
Back to top
This is just for feedback on our web site, not comments or questions about our services.
To tell us about anything else, go to our contact us pages.