Click Into Gear for Bike Week in County Clare from 14th-22nd May
12 May 2022
Did you know that cycling is suitable for all ages and abilities? Clare Sports Partnership have much to choose from! From balance bikes to hybrid bikes, mountain bikes, road bikes, tandems bikes, trike and eBikes. Cycling is one of the truly inclusive sports.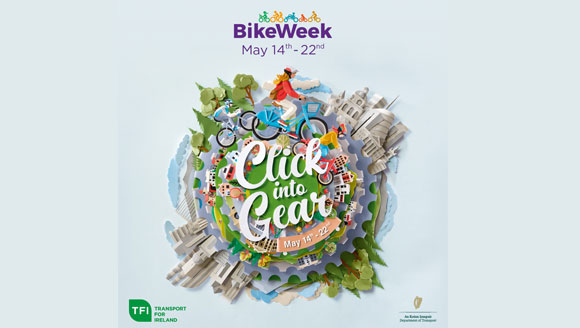 Please join us at your local community event for Bike Week 2022 and make cycling part of your weekly routine.
Events taking place in county Clare for National Bike Week
Cycle to Work: Park up your car and cycle to work during Bike Week. Posting a picture of yourself cycling to work on social media and tagging @claresports, you will enter a draw to win one of three vouchers for dinner for two in some of Clare's finest restaurants. So give it a try and encourage your friends, family and work colleagues to pedal to work! The result could be yummy!
Children's Cycling Skills: Register with Clare Sports Partnership to access four cycling skills videos throughout Bike Week. Practice your skills, and you could win a new cycling helmet. Suitable for children aged 5 to 14. How to win? Register by emailing pat@claresports.ie We ask guardians/parents to send in a video of their child practising the skills to be in with a chance of winning a new cycling helmet. Numbers are limited.
CSP/ Clare Coco:  Join staff members of Clare Sports Partnership and Clare County Council on Wednesday 18th May at 1pm on a 20km leisure centre. Open to all workers in Ennis and surrounds. Cycle on your lunchtime. Duration 1 hour. Pre-registration is a must. Register here
Cycle to School: We invite all Primary Schools throughout County Clare to encourage your students to cycle to school during Bike Week. Tag @claresports or post pictures to Clare Sports Partnership social media pages, and you will be in with a chance of winning a full day of cycling activities for your school for FREE!
Community Bike Maintenance: We have teamed up with Planet Tri Killaloe, Tierney Cycles Ennis, Top Gear Bicycle Repairs, Ennistymon and Landscape & Leisure, Kilrush to provide FREE bike servicing & minor repairs. This is the perfect opportunity to keep your bike in top condition or get that recovery work done.  Just use the code BIKE WEEK CLARE to avail of this offer. Places are limited, so act fast!
Women in Sport Bike for Life Cycling Programme: As the longer evenings arrive, we are delighted to offer the ladies of County Clare the opportunity to participate in our bike for life cycling programmes in three locations in Clare: Killaloe, Shannon and Kilrush. This couch to 40/50km programme runs over six weeks, led by qualified tutors. You will learn the rules of the road, bike skills, correct cycling techniques and improve your endurance in a friendly, supportive environment. All you need is a roadworthy bike and helmet. Cost of €30 per person. Register here
Reintroduction to Cycling: Would you like to get back into cycling? Just need that little bit of extra confidence in your skills? Clare Sports Partnership will be hosting short workshops in Ennis, Shannon and Kilrush during Bike Week. Register at www.claresports.ie/bikeweek  
Family Cycle: Tradaree Wheelers, Newmarket-on-Fergus, are hosting a family spin of a 10km loop cycle on quiet country roads on Saturday 21st May at 2pm. Expert cyclists will be on hand to lead you around the parish, followed by a 20-minute bike maintenance workshop. Refreshments are served after the event. Not to be missed. All information on Tradaree Wheelers Facebook page
Community Bike Swap: Do you have a bike sitting at home, unused or unwanted? Would you like to help the Ukrainian community currently staying in Clare? Donated bikes must be in good working condition or need slight repair? Please present your bike/s to the Central Waste Management Facility in Ballyduff Beg, Inagh V95 XT96. pat@claresports.ie for more information.
Community Bike Ride: Join us for a community leisure cycle on Sunday 22nd May in Miltown Malbay @10am. This 25km loop will take in stunning views of the Atlantic coastline, you will learn how to cycle in a group, and there will be an opportunity for tea/coffee at the end. Register for this free spin here
Clare Cycle League: Held in Barefield on Thursday 19th May at 7pm, all categories catered for in this 30km time trial. All information is on the Clare Cycle League Facebook page.
Kilrush Cycling Day: Join West Clare Cycling Club for this fun cycling day in Gallery Park, Active Kilrush Complex, on Tuesday 17th May, from 5pm-7pm. These workshops will improve your children's cycling ability and participate in fun cycling activities—more information on the West Clare Cycling Club Facebook page or register here
Wild Atlantic Way Cycle: Join West Clare Triathlon Club on Saturday 14th May as they will lead a social spin along the beautiful Atlantic Coast around Kilkee. Open to all adults wishing to cycle 20-25km along the stunning coastline leisurely. All information on the West Clare Triathlon Facebook page
Community Children Cycle: Riverside cycling club invite you to join them on Sunday 15th May at 11am at Ennistymon church car park. You will be led along the cycle lane into Lahinch for refreshments and return to Ennistymon. Open to all children aged eight and older. For more details, contact the Riverside cycling club's Facebook page.
Community Bike Ride: On Monday 16th May, join your local community bike ride in Lahinch at 6pm. This leisurely 15km cycle is perfect to start your summer on your bike under the leader's guidance. Register here
For more information on Bike Week, contact pat@claresports.ie
INCLUSIVE CYCLING PROGRAMMES
Ennis Voices for Autism (EVA) – Learn to Cycle programme for Children with Autism in conjunction with EVA
Learn to Cycle programme for Adults with Down Syndrome  in conjunction with Down Syndrome Clare
Learn to Cycle programme for Children with Down Syndrome  in conjunction with Down Syndrome
In conjunction with Active Ennis, we run a hand-cycling one-to-one programme for wheelchair users.
If you want more information on the above inclusive programmes. Please get in touch with James at james@claresports.ie / 087-9627696
Page last reviewed: 12/05/22
Back to top
This is just for feedback on our web site, not comments or questions about our services.
To tell us about anything else, go to our contact us pages.