Clare County Council expands European cycling route into County Clare
29 June 2020
Funding of €182,000 recently allocated by Minister Shane Ross will extend the EuroVelo cycling route into County Clare.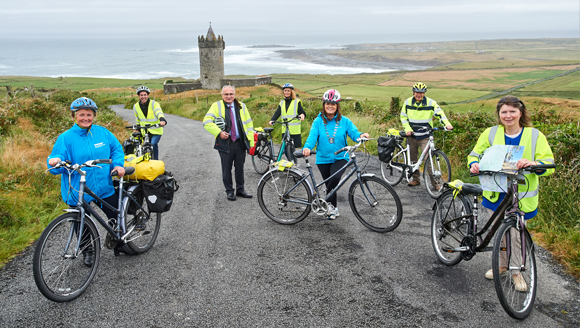 EuroVelo 1 stretches from Norway to Portugal via Ireland and targets long-distance cyclists but also provides routes for users of all abilities as the criteria for inclusion specify lower-trafficked roads as well as Greenways. The route forms part of a network of 17 long-distance cycle routes throughout Europe and it enters County Clare via counties Galway and Limerick.
The route in Clare is approximately 317km long and comprises six daily sections, that is sections which typically can be cycled in one day. In some parts the route ties into cycle routes already in operation, for example, the Doolin and Loop Head cycle routes. The rollout of the route will include the provision of EuroVelo signage, bike repair stands, information boards and cycle racks.
Carmel Kirby, Director of Physical Development, Clare County Council, said: "This project will be a stimulus for economic development by increasing visits to towns and villages along the route. I am very pleased to welcome funding for this project, which will have environmental, health and economic benefits. Cycle tourism is an environmentally sustainable form of tourism that enhances personal health, fitness and wellbeing with minimal impact on the environment and host communities."
Page last reviewed: 29/06/20
Back to top
This is just for feedback on our web site, not comments or questions about our services.
To tell us about anything else, go to our contact us pages.