'Flights of Fancy' at Cultúrlann Sweeney
5 July 2021
An exhibition by Sean Walsh titled 'Flights of Fancy' is on display at Cultúrlann Sweeney Gallery, Kilkee, County Care, from 5th-31st July, 2021.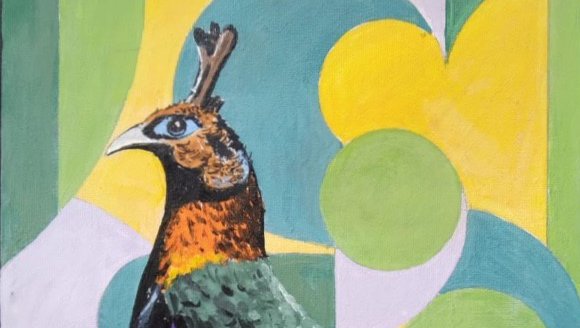 Since many of Sean's recent works feature birds, it seemed appropriate to title this exhibition "Flights of Fancy". Considering that birds are the present day descendants of dinosaurs it is remarkable that the beauty of form and colour that they display seem to have won the day.
Sean's aim in these works, as always, is to align these attributes within the geometric structures that are ever present in nature.
Sean works in different mediums, including stained glass, crushed stone, low relief carving, acrylics and pastels. Sean follows the method he describes as "working from the inside out". Starting with no pre-conceived subject matter Sean commences by marking the canvas with simple lines, choosing carefully the placement of the resulting shapes in order to satisfy his design instinct. The purpose of this approach is to arrive at a point where the framework can stand as an abstract composition in its own right or be developed further into a semi-abstract depiction of a recognisable activity or object.
Sean Walsh is a contemporary artist living and working in Cahir, Co. Tipperary. He graduated from NCAD and worked as an art teacher from 1967 to 2004 at St Ailbe's School in Tipperary Town. From 2004 to the present he has exhibited at the following venues:
Airfield Trust, Dublin
Phoenix Park Visitors Centre, Dublin
St John's Theatre & Arts Centre, Listowel
Clonmel Library
Quay Co-op, Cork
Excel Arts Centre, Tipperary
The Craft Granary, Cahir
The Gallery Café, Gort
Leixlip Library
Cultúrlann Sweeney Gallery, Kilkee
Friars Gate Theatre, Kilmallock
Cashel Library.
For further information / interviews please contact: Sean Walsh, Artist. Email niamhmewalsh21@hotmail.com
Page last reviewed: 11/07/21
Back to top
This is just for feedback on our web site, not comments or questions about our services.
To tell us about anything else, go to our contact us pages.