'Clare Autism Aware' programme launches with free training webinars
3 May 2023
Free online training webinars with Autism Consultant, Dr Susan Crawford, will take place in May as part of the 'Clare Autism Aware' programme.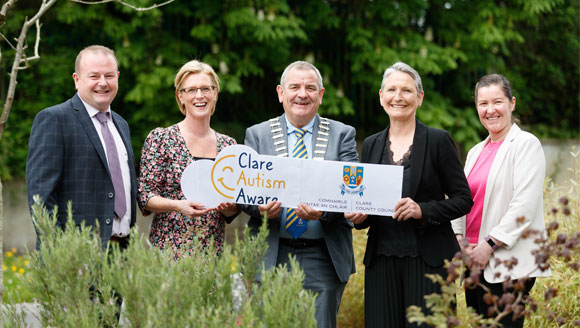 In October 2021, the Minister of State with Responsibility for Disability, Anne Rabbitte TD, announced a new annual Disability Participation and Awareness Fund to support the participation of people with disabilities in local activities, to remove barriers to community involvement and to promote the United Nations Convention on the Rights of Persons with Disabilities.

Clare County Council is delighted to have been awarded €78,500 from this fund to promote and implement the Clare Autism Aware programme.

This multi-level, county-wide training programme will increase awareness of autism spectrum disorder in the wider community. Given that one in every 65 children of school age has an autism spectrum disorder diagnosis, this project has the potential to have a direct impact on a large number of individuals across County Clare.

Welcoming the launch of the initiative, Cllr Tony O'Brien, Cathaoirleach of Clare County Council, said, "The Elected Members were fortunate to take part in the initial training provided by Dr Susan Crawford. I would like to thank her for developing the programme and raising awareness of this condition. I would encourage everybody to take time out of their schedule to take part in the training."

Dr Susan Crawford, Autism Spectrum Consultant with 'Get Autism Active', commented, "I am delighted to support the development and growth of the Clare Autism Aware initiative by Clare County Council. This project will showcase amenities, businesses and community initiatives, engaging and driving the agenda of autism awareness and understanding throughout the county. Clare/Ireland has the potential to be the autism hub of Europe, leading the way in best practice from research, policy and actual real life practice perspectives. All areas of community, sport, education, industry and hospitality can gain and be a part of something real and meaningful within the county, leading the way for the country."

Clare Autism Aware are hosting four free introductory training webinars with Dr Crawford.

These one-hour webinars will take place over the next four Tuesdays during the month of May, starting on Tuesday, 9th May, at 6:00pm. For more information and registration please visit the dedicated Clare Autism Aware webpage at: https://yoursay.clarecoco.ie/clareautismaware


Caption:
Pictured marking the launch of the 'Clare Autism Aware' programme are (left to right): Brendan Boyce, Administrative Officer, Rural Development, Clare County Council; Bernadette Haugh, Senior Executive Officer, Rural Development, Clare County Council; Cllr Tony O'Brien, Cathaoirleach, Clare County Council; Dr Susan Crawford, Get Autism Active; and Deirdre Power, Equality Officer, Human Resources, Clare County Council.
Page last reviewed: 03/05/23
Back to top
This is just for feedback on our web site, not comments or questions about our services.
To tell us about anything else, go to our contact us pages.