World Health Organisation (WHO) recognises Ireland as a leader in Age Friendly Programmes
18 December 2019
An Taoiseach, Leo Varadkar, commends 31 local authorities on internationally recognised leadership in Age Friendly policies and practices.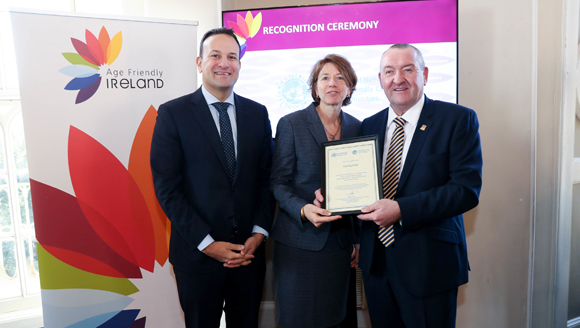 In April this year, Ireland became the first country in the world to be recognised as a leader in Age Friendly Programmes and have full membership across all administrative areas to this significant World Health Organisation (WHO) initiative.
On Monday 16th December 2019, representatives of all 31 local authorities in Ireland gathered for a formal ceremony in Slane Castle to receive their charters from the Taoiseach Leo Varadkar, T.D. and Alana Officer of the World Health Organisation, as part of a special recognition ceremony. Clare County Council's Chief Executive Pat Dowling attended on behalf of the Clare Age Friendly Programme. Each local authority in Ireland is leading on the implementation of a local Age friendly Programme, in partnership with multiple stakeholders in the public, business and community/non government organisation sectors.
Minister for Employment Affairs & Social Protection, Regina Doherty; Minister of State for Housing and Urban Development, Damien English; Minster of State for Mental Health and Older People, Jim Daly; and Minister of State for Foreign Affairs, Helen McEntee were also in attendance.
Ireland's Age Friendly Programme has been operational for ten years.  Age Friendly Ireland as a Shared Service of Local Government, hosted by Meath County Council, was officially launched at this event. The Age Friendly Programme is a key strategy to enable people of all ages to actively participate in the community, helping people to stay healthy and active even at the oldest ages and providing appropriate support to those who can no longer look after themselves.
Internationally the world's population is ageing, and the WHO programme is a response to this demographic trend. Ireland's population has been getting steadily older since the 1980's. The 65+ age group increased by 19% between 2011 and 2016. This trend will continue, so it is crucial now to plan and prepare for the needs of greater numbers of older people in our communities.
Taoiseach Leo Varadkar said:
"The Age Friendly Ireland Programme is a really effective way of bringing together a wide range of organisations, businesses and service providers to ensure the interests and needs of older people are being well served. I commend our local authorities for their hard work in implementing the programme. That work will help to ensure Ireland is ready to meet the challenges and opportunities presented by the fact that we are living longer.
"Ireland may be a small country, but we have shown huge leadership when it comes to positive ageing. We are well positioned internationally to influence the agenda on Age Friendly communities, and it is gratifying to hear from the World Health Organisation how respected we are as a country for this work."
This milestone occasion marked the full engagement of all 31 authorities and a multitude of key stakeholder agencies in taking actions which will improve the quality of life of older people across Ireland.
Creating a great place in which to grow old is the aim of the national Age Friendly Cities and Counties Programme to cater for an ageing population, with Ireland leading internationally in rolling out the programme.
- ENDS -
For further information contact:
Age Friendly Ireland's Communication Office, 
Telephone: (046) 9097418 
Mobile: 085 874 6269
https://twitter.com/agefriendlyirl
For further details of the Clare Age Friendly Programme please visit:-
https://twitter.com/AgeFriendlClare
Page last reviewed: 18/12/19
Back to top
This is just for feedback on our web site, not comments or questions about our services.
To tell us about anything else, go to our contact us pages.