Clare entrepreneurs win places at Regional Finals
3 May 2019
Clare's "Best Young Entrepreneurs" for 2019 and €50,000 investment fund winners were announced at an awards ceremony hosted by Local Enterprise Office Clare last night.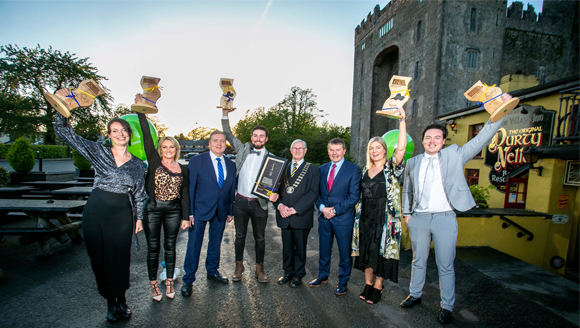 As part of a nationwide search launched by Minister Heather Humphreys and Minister Pat Breen to find Ireland's Best Young Entrepreneurs (IBYE) for 2019, the six winners and runners-up were chosen from 16 local finalists and will now share a €50,000 investment fund.
IBYE, now in its fifth year, is a nationwide youth enterprise initiative to help 18-to-35 year olds with an innovative business idea, new start-up or established business. In 2019, 1,644 young entrepreneurs entered IBYE, which is an initiative of the Department of Business, Enterprise and Innovation and supported by Enterprise Ireland and local authorities.
The county final was hosted by Padraic McElwee, Head of Enterprise and Cathaoirleach Michael Begley. Minister for Trade, Employment, Business, EU Digital Single Market and Data Protection Pat Breen TD was on hand to present the awards and congratulate the winners.
The 'Best New Idea' category, with a €7,000 investment fund, was won by Michelle Tierney, aged 32, founder of SymPhysis Medical from Sixmilebridge.  SymPhysis Medical is an innovative medical device for treating cancer patients suffering from fluid build-up around the lung and aims to improve patients' quality of life and reduce healthcare costs.
The runner-up award and €3,000 investment fund went to James Moriarty, aged 28, of ProActive Stats from Quin.
The winner of the 'Best Start-Up Business' category and the €15,000 investment fund was Ciara McGuane, aged 34, founder of Rahoo.ie from Kilnamona. Rahoo.ie is an education-technology company which makes professional development accessible for teachers – anytime, anywhere. Rahoo's Summer Courses for teachers are accredited by the Department of Education & Skills.

The runner-up in this category, collecting a €5,000 investment fund, was Rowena Sheen, aged 34, of Rowena Sheen Jewellery from Ennistymon.
Meanwhile, the title of 'Best Established Business', with an investment fund of €15,000, went to Conor Murray, aged 24, founder of Kilkee Forge from Kilkee. Kilkee Forge are metal designers and visual artists working from a studio and forge in Kilkee. Kilkee Forge combines traditional forging techniques with the latest bespoke contemporary artworks.
The runner-up in this category, scooping a €5,000 investment fund, was Ciara Hayes, aged 33, of Trifecta Hair & Beauty from Ennis.
Conor Murray of Kilkee Forge was also awarded the title of 'Best Young Entrepreneur' for Clare.
In the lead-up to the county final, each finalist received targeted business supports through Local Enterprise Office Clare. They attended an intensive Business Boot Camp, receiving mentoring and support on their business plans, pitch training as well as getting the opportunity to connect with other young entrepreneurs from Clare.
Congratulating the IBYE winners and wishing them every success as they progress to the later stages of the competition, Minister Breen described the 16 Clare finalists as truly inspiring.
Minister Breen said, "Clare has been very successful to date in the competition, and I have no doubt having met with all the young entrepreneurs here tonight and heard about their businesses that this trend will continue".
"The Government, through the Department of Business, Enterprise and Innovation invests €2 million each year into IBYE, enabling all entrants to avail of training, mentoring and support. An initiative of my Department, the IBYE programme has been to the fore in helping some of Ireland's best young entrepreneurs find their feet and establish their businesses both nationally and internationally".
"I want to also pay tribute to the Local Enterprise Office Clare which continues to provide a first class, 'first stop shop' for enterprise supports to start-ups, micro enterprises and small businesses. LEOs have become the most important resource for any entrepreneur or small business looking for support or training, providing them with the skills and knowledge to start and grow, to create jobs and generate significant revenue for the Irish economy."
Padraic McElwee, Head of Enterprise with Local Enterprise Office Clare said: "As our winners clearly demonstrate, youth entrepreneurship is thriving here in Clare. IBYE is about discovering local potential and nurturing that talent through financial supports, mentoring, training and networking opportunities. In 2019, Local Enterprise Office Clare supported 16 young entrepreneurs through the IBYE competition and over 99 young entrepreneurs in total, since the competition began in 2014. We want to build on that success by supporting Clare's young entrepreneurs today and into the future."
The county winners from Clare will now progress to the regional finals, which take place on Monday 17th June.  In all, 24 national finalists will be selected at regional finals across the country to compete for the overall title of "Ireland's Best Young Entrepreneur."
At the IBYE national final on Sunday 15th September, which takes place at Google's European Headquarters in Dublin, a €100,000 investment fund will be awarded to winners.
Further details on the competition and supports available to young entrepreneurs are available through www.localenterprise.ie and www.ibye.ie.
Page last reviewed: 03/05/19
Back to top
This is just for feedback on our web site, not comments or questions about our services.
To tell us about anything else, go to our contact us pages.