Portrait exhibition on display following Africa Day launch
15 June 2022
Africa Day was celebrated on 25th May in Áras Contae an Chláir with the launch of a portrait exhibition celebrating the African community in County Clare.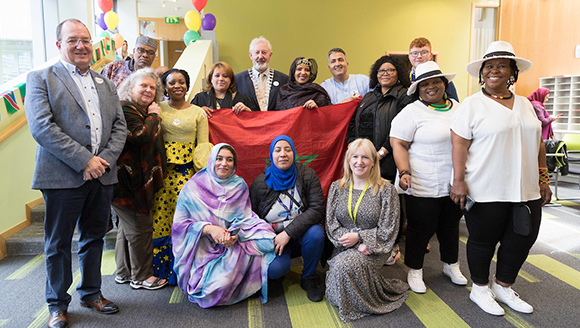 The portrait exhibition celebrates the diversity of the African community in Clare, the contribution of Africans to life in the county and the experiences of migrants and second/third-generation families here. It features families, singers, carers, refugees, entrepreneurs, people in the asylum process, those who came here for love, people who have made Clare their home by choice, circumstance or necessity. Each one contributing richly to the fabric of the county.
Portraits from this exhibition will be available to view in the following locations over the month of June during their normal operating hours:
Ennis: De Valera Library
Shannon: Seán Lemass Library
Kilrush: Kilrush Library
Lisdoonvarna: Lisdoonvarna Library
Scariff: Scariff Library.
Visit www.clarelibrary.ie for further information on library locations and opening times and follow Clare County Council social media for updates and information.
The Africa Day event in Áras Contae an Chláir featured music from Scoil Chríost Rí Ennis, Holy Family Junior School, the choir of the Redeemed African Church of God and solo singers Yvonne and Gloria, who also sing with Ennis Gospel Choir, as well as being attended by some of the portrait sitters, including a group from the direct provision centre in Lisdoonvarna. An Africa Day flag was flown outside the building to welcome guests.
Leas Cathaoirleach of Clare County Council, Cllr Joe Killeen, who opened proceedings and launched the exhibition, said: "This year, we are marking Africa Day and the African community in Clare with a portrait exhibition that reflects the diversity of our local African and African-Irish communities. It is particularly important to reflect the hosting here in the Council Chamber, a mark of the respect and esteem with which we hold our African neighbours and communities. While there are still challenges to be overcome in tackling difficult issues, events such as today are opportunities to share experiences, offer friendship and work together. People come to Clare for many different reasons. We welcome everyone and we are excited to continue to work together as a diverse and changing community here."
Holy Family Junior School have recently been awarded a Yellow Flag recognising their work on diversity and inclusion, and their first-class group represented their hard work in achieving this honour. Speakers from the African community, including Ali Souih from the Moroccan Irish Friendship Association, Pastor Ruth Ogundare and Bolanle Ojulari Hayes, discussed the opportunities and challenges of life in Ireland and reflected on their love of Clare and the sense of community.
Pastor Ruth Ogundare spoke about making Clare her home and developing a thriving business here, as well as recognising the work undertaken at government level on integration and the need to continue to tackle racism and hate speech: "The experiences of migrants are significantly shaped by the policies and practices of the State. Indeed, people of African descent in Ireland have made substantial efforts to work on integration, such efforts need to be recognised and met with government strategy working with people of African descent, addressing their problems and ensuring their maximum integration, so as not to waste our potential, as government will continue to play a central role in supporting the achievement of those ambitions. My hope is that by this time next year, we will have seen another significant step forward in making that equality and diversity a reality." Bolanle Ojulari Hayes' thoughtful reflection on her frontline work and the opportunity for learning and progression in Ireland was well received by the group, as were Ali Souih's comments on community and connection, which ended with a hope of Clare hurling success and a crowd roar of 'Up the Banner'.
Attendees viewed the portraits which were displayed in the Council Chamber and had an opportunity to view the seat of local democracy, seeing the physical space where decisions are made. Removing barriers to participation has been a recent theme in the delivery of projects by Clare County Council, such as the 'Promoting Gender Equality & Diversity in Local Government' event.
This project was made possible through the participation of over 60 portrait sitters, the work of Cracking Light Productions, Clare Immigrant Support Centre, Association of Nigerians in County Clare, Moroccan Irish Friendship Association, Hope Café Shannon, Clare County Council, as well as the financial support of Irish Aid. Thanks to all portrait sitters for their participation.
Clare County Library branch opening hours and contact details can be viewed at: https://www.clarelibrary.ie/eolas/library/branches/points.htm
Page last reviewed: 15/06/22
Back to top
This is just for feedback on our web site, not comments or questions about our services.
To tell us about anything else, go to our contact us pages.