Council selected to be a Sustainable Development Goal (SDG) Champion
9 May 2023
Clare County Council has been selected as one of 26 organisations to participate in the Sustainable Development Goal Champions Programme 2023-2024.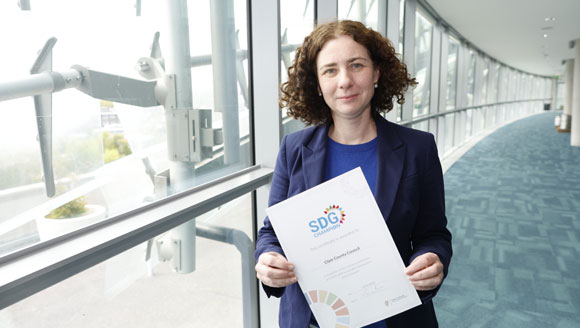 The Council's selection means it will now be among the leaders in driving forward Ireland's progress towards the United Nations Sustainable Development Goals (SDGs).
As an SDG Champion, Clare County Council's role is to act as an advocate and promoter of the SDGs and a good practice example of how an organisation can contribute to the SDGs and integrate them into its work and activities.
The appointment of the 26 SDG Champions was announced by Minister for the Environment, Climate and Communications, Eamon Ryan TD, on Wednesday, 3rd May, 2023.
Speaking about the appointments, Minister Ryan said, "I am delighted to be relaunching the SDG Champions programme for 2023-2024. We are facing major challenges in achieving the SDGs, with unprecedented pressures on our planet, economy and society, as well as the impacts brought about by the Covid-19 pandemic. Now is the time to accelerate action towards achieving the goals, to build back better while leaving no-one behind.
"The SDG Champions Programme recognises that the SDGs are for everyone and that everyone can make a contribution to their success. Over 80 organisations applied to take part in the programme this year, underlining the readiness of Irish society to assist in ensuring that Ireland becomes a global leader in achieving the goals. Achieving the SDG targets by 2030 is a collective task that cannot be accomplished without partnership. My department looks forward to a successful collaboration with this year's champions, as we work together to achieve the SDGs and the 2030 Agenda in Ireland."
Cllr Tony O'Brien, Cathaoirleach of Clare County Council, said, "I welcome Minister Ryan's appointment of Clare County Council as an SDG Champion as well as the Council's commitment to act as an advocate for and promoter of the SDGs. We can all contribute to achieving the SDG targets at work, at home, in our communities and in our schools. Whether as an individual, a member of a community development group, a Tidy Towns group or working in the public or private sector, we can all link what we do to the SDGs. It is important that everyone is aware of the positive contribution we can all make to sustaining our local and global communities long into the future."
Pat Dowling, Chief Executive, Clare County Council, explained, "As a local authority, Clare County Council is responsible for the provision of important services such as rural, community and tourism development, economic development, roads and transportation, environment, housing, arts, emergency services, recreation and sport. There are strong alignments with the SDGs across our service areas including the goals of: Good Health and Well-being, Clean Water and Sanitation, Decent Work and Economic Growth, Industry, Innovation and Infrastructure, Sustainable Cities and Communities, Responsible Consumption and Production, Climate Action, Life Below Water and Life on Land."
Mr Dowling added, "We are delighted to have been selected as an SDG Champion for the 2023-2024 programme. Being an SDG Champion will help embed the SDGs further into our work programmes, which will benefit our communities and our county. Aligning our work programmes, across all directorates, with the SDGs will benefit our county in terms of sustainable development, economy, environment and equity. During our term as SDG Champion, we look forward to raising awareness of the SDGs and demonstrating their application in our organisation's day-to-day activities."
Siobhán McNulty, Acting Director of Service, Physical Development, Clare County Council, outlined that, "Clare County Council has a dedicated community engagement web platform for the SDGs at https://yoursay.clarecoco.ie/clare-sdgs. We will share our progress and learnings on our journey as an SDG Champion through this web resource. A key element of the SDG programme is also to provide training and mentoring to our staff to assist in the further alignment of work programmes to the SDGs."
Caption:
Karen Foley, Environmental Awareness Officer, Clare County Council. The Council has been selected as one of 26 organisations to participate in the Sustainable Development Goal Champions Programme 2023-2024.
Page last reviewed: 18/05/23
Back to top
This is just for feedback on our web site, not comments or questions about our services.
To tell us about anything else, go to our contact us pages.