Celebration of Clare Older People's Volunteer of the Year 2021
9 November 2021
The Temple Gate Hotel in Ennis was the venue for an event on Thursday (4th November) to celebrate the 14 people nominated for the Clare Older People's Volunteer of the Year Award 2021. The function was hosted by the Clare Older People's Council and supported by Clare County Council.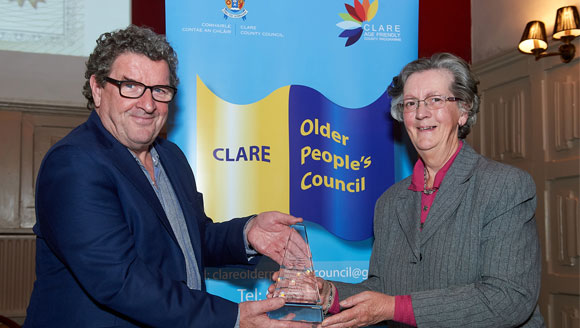 The winner of the award, Mary O'Mara, was a very popular choice. Mary received an engraved glass trophy and a One4All voucher from Mike Hanrahan (Stockton's Wing), who is Clare's Age Friendly Ambassador.
Opening the event, Cathaoirleach of Clare County Council, Cllr PJ Ryan, spoke of the importance of voluntary work to local communities and of how such work contributes to the resolution of challenges faced by those communities. The keynote speaker, Dr Rose Galvin, Associate Professor at the School of Allied Health, University of Limerick (UL), and senior member of UL's Ageing Research Committee, spoke of staying active and healthy as we age and the importance of maintaining intergenerational relationships.
Clare Age Friendly Ambassador, Mike Hanrahan, congratulated the winner and all the nominees, who received a framed certificate of recognition for the fact that they had been nominated by their communities. Mike Hanrahan also praised the organisers of the event, Clare Older People's Council, and commented on how important the work of the Clare Older People's Council is to the development of Age Friendly policies and practices within the county itself as the demographic changes and the number of older people increases.
Page last reviewed: 09/11/21
Back to top
This is just for feedback on our web site, not comments or questions about our services.
To tell us about anything else, go to our contact us pages.