27 Projects Shortlisted for National Age Friendly Recognition Awards
9 November 2022
Clare County Council Hosts Awards Ceremony in Dromoland Castle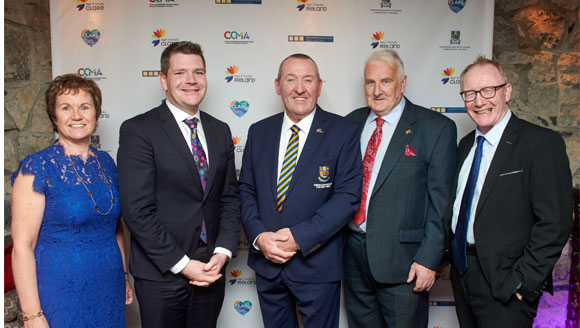 Councillor Tony O'Brien, Cathaoirleach of Clare County Council, welcomed over 250 people from across Ireland to the wonderful Dromoland Castle for this year's National Age Friendly Recognition and Achievement Awards ceremony on Thursday, 27th October, at 6.30pm.
The Age Friendly Recognition and Achievement Awards showcase age-friendly initiatives from around the country that are contributing to making Ireland a great place in which to grow old. The event was presented by Age Friendly Ireland, a shared service function of Local Government in Meath County Council, and was hosted and sponsored by Clare County Council. Master of Ceremonies for the evening was the wonderful Marty Morrissey, Irish sports commentator and television presenter with RTÉ.
This is the sixth annual awards ceremony for Age Friendly Ireland since 2014. Clare County Council expressed an interest to host the awards with Age Friendly Ireland in 2020, however due to the pandemic in early 2020 and like many other events, the awards ceremony had to be postponed. In 2022 in consultation with Older People's Councils it was collectively agreed that there was a huge appetite to bring back the awards, given the dreadful events of the previous two and a half years. Clare has been an Age Friendly County since 2013 and has made significant progress in embedding an age-friendly approach to all of their work, as such Age Friendly Ireland were delighted to have the Awards Ceremony hosted in the beautiful County Clare.
The National Age Friendly Recognition and Achievement Awards ceremony is an annual acknowledgement of the significant work that takes place across the country, recognising in particular those whose efforts contribute to older people living better lives as they age. Many of the projects come from the community and voluntary sector, front line workers and practitioners that have worked tirelessly to support older people. It is a beautiful event celebrating all that is good in Ireland for older people.
The Age Friendly Cities and Counties Programme has been running for nearly 15 years and has been implemented by all 31 Local Authorities in Ireland, the programme is built on the recognition of the valuable role that older people can and should play in shaping their communities for the better and it aims to make Ireland a truly great place in which to grow old.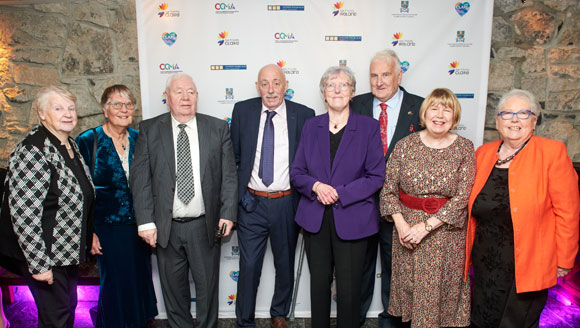 This year eight categories of awards, aligning to the themes of the World Health Organisation Age Friendly Cities and Communities, were presented to age-friendly projects in recognition for their innovative and creative approach to making Ireland a great place in which to grow old.
The winners in each category were:
Age Friendly Transport Award
World's 1st Age Friendly Airports: Shannon Airport & Ireland West Airport Knock
Age Friendly Active & Healthy Aging Award
Wexford Telehealth Pilot Project
Age Friendly Business Innovation Award
Boots Ireland making their stores Dementia Inclusive
Age Friendly Safety & Security Award
An Garda Síochána Digital Mapping Older Persons Register
Age Friendly Communication Award
Friendly Call Cork - Reaching and supporting the most isolated older person
Age Friendly Environment Award
Ennis, Co. Clare, Age Friendly Town
Age Friendly Community Innovation Award
Tipperary Age Friendly EXPO Event for Older Adults
Age Friendly Housing Award
Rochestown House, Dun Laoghaire Rathvon County Council's Older Person's Development
Speaking after the event, Chief Executive of Meath County Council and host of the National Age Friendly Ireland shared service, Jackie Maguire, said: "Meath County Council, as host of the Age Friendly Ireland, wish to congratulate all the participating age-friendly projects. This annual Age Friendly Recognition Awards Ceremony is a perfect opportunity to recognise all that is good across all sectors in Ireland in responding to the diverse needs of our ageing population.
"On behalf of the wider local government sector I wish to thank all our age-friendly programme practitioners, our sponsors, our judges, our older people's councils and wider communities for joining in this wonderful annual celebration. In particular I extend sincere thanks to Pat Dowling and his team in Clare County Council for hosting what was a wonderful ceremony for 2022."
Pat Dowling, Chief Executive of Clare County Council, said: "Clare County Council is delighted to have hosted this year's Age Friendly Recognition and Achievement Awards. It is important that as a society we recognise and acknowledge initiatives that support older people and make Ireland a great place to grow old. I would like to congratulate all the Award recipients and all those who were shortlisted, and I commend all the individuals and organisations who contribute to making Ireland a more age-friendly and inclusive place."
Captions:
(1): Pictured (l-r): Jackie Maguire, Chief Executive of Meath County Council and host of the National Age Friendly Ireland shared service; Minister Peter Burke, Minister of State for Planning and Local Government; Pat Dowling, Chief Executive of Clare County Council; Maurice Harvey, Chair of Clare Older People's Council; Minister Frank Feighan, Minister of State with Responsibility for Public Health, Wellbeing and the National Drugs Strategy.
(2): Members of Clare's Older People's Council.
For further information contact:
Age Friendly Ireland's Communication Office T. (046) 9097418 M. 085 874 6269
https://twitter.com/agefriendlyirl
Page last reviewed: 09/11/22
Back to top
This is just for feedback on our web site, not comments or questions about our services.
To tell us about anything else, go to our contact us pages.