Clare Reads 2021 - Niall Williams Conversation
The Ennis Book Club Festival will be hosting Niall Williams in conversations with Dani Gill. Many will have read This is Happiness during February & March so please do join in and see the author himself talking about his inspiration for the book, the writing process and life in County Clare. 
Dani Gill is the artistic director of Ennis Book Club Festival 2021. Free event for all aged 18+. Booking is essential. In order to take part, participants will require remote access to Zoom. Please book your place at www.ennisbookclubfestival.com. Clare Reads: https://www.clarelibrary.ie/eolas/library/services/clare_reads.htm
As part of the Clare Reads and the this is Happiness project sponsored by the Clare County Council's Keepwell Campaign.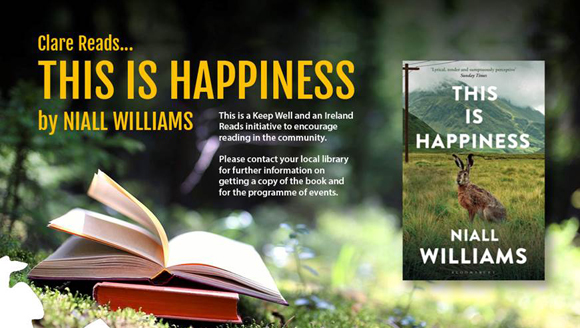 Event details
Date:

30 March 2021 to 30 March 2021

Further information