Webinar: Men's Mental Health in these Challenging Times
International Men's Day is the 19th of November. The Men's Health Forum in Ireland and the Centre for Men's Health in IT Carlow are hosting a webinar from 11am - 12:30pm to mark the day.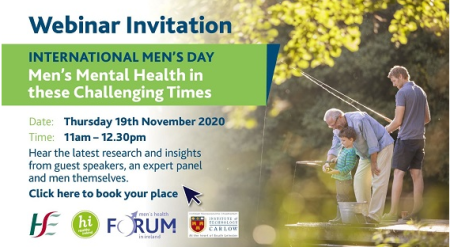 Event details
Date:

19 November 2020 to 19 November 2020

Time:

11am - 12:30pm
This day offers an opportunity for everyone to celebrate the important contribution that men and boys make to their families, friends, communities, workplaces, society and the world. However, it is also a time to highlight some of the key issues facing males, and to provide practical support and positive encouragement to overcome these.
It will highlight recent research and promote important messages for men in relation to their mental health. 
There will be an exciting line up of speakers on men's health including inputs on farmers, men who attend men's sheds and young men as well as a discussion panel with representatives from the GAA, SpunOut, Mental Health Ireland, Healthy Ireland in the Department of Health and the HSE.
View the event online
Page last reviewed: 19/11/20
Back to top