Temporary Covid-19 Town Centre Mobility Plan for Ennis
29 September 2020
Clare County Council, in consultation with a stakeholder group comprising representatives from businesses, the community, and the wider public sector, is endeavoring to support residents, the business community and all citizens to access the town safely during the Covid-19 pandemic.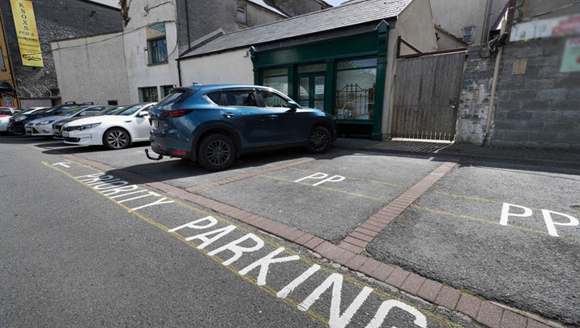 Under Stage 1 of the temporary Covid-19 Ennis Town Centre Mobility Plan, traffic re-routing and other measures came into effect in Ennis Town Centre from Wednesday, 20th May, 2020. This measure ensures street space can be shared safely by pedestrians, cyclists, public transport and cars, in order to ensure physical distancing can be adhered to by those coming into the town centre. The plan incorporates traffic re-routing measures, amendments to delivery times and locations, and changes to car parking provision. The measures will apply Monday-Saturday.
Clare County Council is continuing to work with our stakeholders on the further refinement of the plan over the coming weeks and months. The plan is a living document and will be subject to regular review. Some of the key initial measures are listed below.
Traffic re-routing measures
Measures will apply from 11:00 a.m. to 6:00 p.m. (Monday-Saturday) and will affect the following areas:
Abbey Street at the entrance to Abbey Street Carpark
Frances Street at the entrance to Abbey Street
O'Connell Street
Bank Place to the exit from Abbey Street Carpark
Salt House Lane and High Street
Cabey's Lane at Market Place
Lower Parnell Street from Carmody Street to Cabey's Lane
Woodquay can be accessed from the carpark side
Summerhill will be altered to a two-way traffic system,with access to River Lane from the river side and Fahy's Lane from Summerhill.
Deliveries
Deliveries will be able to access the restricted area from before 11:00 a.m. and after 6:00 p.m. only. Additional loading bays are provided in the Temple Gate car park and Abbey Street car park to assist unloading outside these hours.
Parking
To meet the 2m wide social distancing Government requirements, it is necessary to adjust existing parking and street layouts to provide additional width on Market Street, removing the parking on Bank Place from the AIB to the Post Office, adjusting the perpendicular parking on Woodquay from Parnell Street to the car park access road.
Traffic re-routing measures will also impact on the on-street car parking in those areas.
Additional free parking has been made available at the Cloister/GAA car park from 8:00 a.m. to 6.30 p.m., Monday to Saturday, on a temporary basis. The car park will not be accessible outside of these opening hours, so patrons are advised to ensure they vacate the car park prior to the 6.30 p.m. closure. Business parking permit holders are encouraged to avail of the parking in this area.
Priority parking spaces have been provided to enable vulnerable members of the public to park in close proximity to Ennis Town Centre. Normal parking charges apply. The need for these spaces arose from a walkability study carried out by the Older People's Council in conjunction with Clare County Council. A parklet/seating area has also been installed in O'Connell Street for use by general public.
We ask that the public be mindful when parking in town to ensure these spaces are available for vulnerable persons. Clare County Council wishes to encourage people to shop locally in a safe environment to support their local economy.
Click and Collect parking spaces have been provided to assist the broadening remit of courier/delivery services. These spaces have a maximum 15-minute time limit, to facilitate the collection of purchases from business. Four spaces are located in the Abbey Street Carpark near Brewery Lane, and a further four spaces in Friar's Walk Carpark (near Clare Museum).
Full list of parking available
Members of the public can contact Clare County Council Customer Services with queries at: customerservices@clarecoco.ie
Detailed maps
This shows the inner ring route around the town centre and the entry points with the proposed Covid-19 traffic routing. (This would be similar to the ring route used at Fleadh Cheoil na hEireann)
MDE-20-027-02 Covid 19 Traffic Routing
This shows the locations where measures were put in place to facilitate social separation as set out in the Government Covid-19 Guidelines.
MDE-20-027-03 Abbey Street Carpark Area
This shows layouts at Bank Place and Francis Street in more detail and additional loading bays at Abbey Street Carpark and Friars Walk Carparks.
This shows adjustments to the parking at Market Street including the loading bay at Lower Market Street and necessity to compensate for the loss of disabled spaces lost in Cabey's Lane. The proposed two way system on Summerhill and the adjustments to parking at Woodquay.
This shows layout at Abbey Street, Francis Street with the auto track lines for delivery trucks to define the required alignments.
This is as per 05 with the autotrack removed. It shows the intended lines of flexible slim bollards that will be fixed to the road to channelize the lanes to prevent right turn from Abbey Street Carpark to Abbey Street.
Page last updated: 29/09/20
Back to top
This is just for feedback on our web site, not comments or questions about our services.
To tell us about anything else, go to our contact us pages.