Clare Age-Friendly County
In 2013 the Department of Health published the National Positive Ageing Strategy to plan for an ageing population. The Strategy sets out a vision for an age-friendly society through the achievement of four national goals (participation, health, security and research).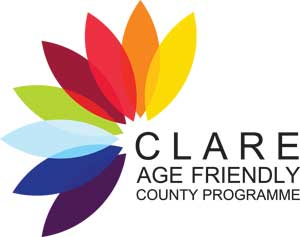 Established in January 2014, Age-Friendly Ireland hosted by Meath County Council, coordinates the national Age Friendly Cities and Counties Programme. The Programme guides the development of effective city- and county-based, multi-agency Age-Friendly Strategies aimed at improving the quality of life of older people throughout Ireland.
In an international context, Age-Friendly Ireland also provides the links between the National Positive Ageing Strategy and the Global Age-friendly Cities Guide, published by the World Health Organisation (WHO) in 2007.  
The World Health Organisation (WHO) has included County Clare in its Global Network for Age-Friendly Cities and Communities.  As a member, County Clare is part of a growing global movement of communities, cities and other sub-national levels of government that have pledged to meet the needs of their older residents.  
The Global Network currently includes 541 cities and communities in 37 countries, covering over 179 million people worldwide. Among existing members are Dallas (USA), Reykjavik (Iceland), Barcelona (Spain), Rennes (France), Busan (South Korea), Porto (Portugal), Volvograd (Russia)  and Liverpool (UK).
The Age-Friendly County Strategy for Clare addresses the opportunities and challenges posed by a predicted growth in the ageing population internationally, nationally and at county level. The latest strategy was developed in 2018 following consultation with all key stakeholders and research from the Healthy and Positive Ageing Initiative.  It outlines an Action Plan for the following five years. The Action Plan aims to ensure that the county's social, cultural, economic and physical environment is undertaken in an age-friendly manner that supports a healthy and positive experience of ageing.
The age-friendly programme in the county is managed by the Clare Age-Friendly Alliance Board and is implemented by an implementation team, both of which work on the principle of inter-agency collaboration.
Pat Dowling (Chief Executive, Clare Co. Council & Chairperson)
Patricia Anne Moore (Chair, Older People's Council)
Stella O'Gorman (Older People's Council)
Doirín Graham (Chief Executive, Clare Local Development Company)
Caitriona Lavelle (Manager, Clarecare)
Sean Colleran (Chief Superintendent, An Garda Síochána)
Ethna McTeague (Manager of Community Services for Older People, HSE)
Laura Ward (Manager, Clare Bus)
Victoria Ward (Senior Administrator, Family Carers)
Jennifer Moran Stritch (Lecturer, Limerick Institute of Technology)
Dr. Rose Galvin (Ageing Research Centre, University of Limerick)
Breda O'Driscoll (Community Education Facilitator, Limerick & Clare Education and Training Board)
Maria Molloy (Ennis Mental Health Association)
Karen Fennessy (Programme Co-Ordinator, Clare County Council)
Contact
Karen Fennessy
Age Friendly Development Officer


This is just for feedback on our web site, not comments or questions about our services.
To tell us about anything else, go to our contact us pages.