Support Clare in Building our Future Jobs
22 June 2021
Clare is a great place to live, work and visit. With the increased migration of people moving to the West of Ireland and the recent growth in flexible and remote-working accelerated by the Covid-19 pandemic, Clare is a destination of choice for many looking for a more balanced quality of life.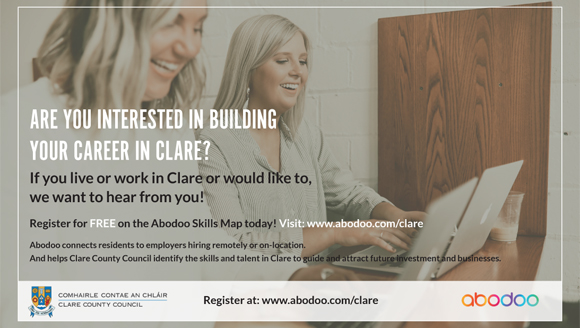 Building on Clare's strong reputation across key sectors and its growing international business profile, Clare County Council has engaged the services of Abodoo to map the skills and talents of those currently working in the County or those considering relocating, to identify further potential opportunities for employment. The use of Talent Mapping Technology by Abodoo provides a continuous anonymised data analysis of the skills and the location of skills in Clare. This data highlights the most predominate skills in major areas for the use of employers. Those who sign up can opt to allow employers to contact them directly should they wish or can simply add their skills and talent to the county-wide map to allow for better opportunities for County Clare.
Liam Conneally, Director of Economic Development at Clare County Council says "hundreds of people have already signed up to the skills mapping platform with Abodoo. Using the anonymised data from the talent mapping platform will enable Clare County Council to position Clare as an attractive location for enterprise and inward investment building on its strength as a location that offers excellent quality of life while retaining global access through our air, road, rail and sea access infrastructure. I would encourage everyone to register on the platform to showcase the range of skills and talents we already have in Clare"
To register for FREE on the platform, visit www.abodoo.com/clare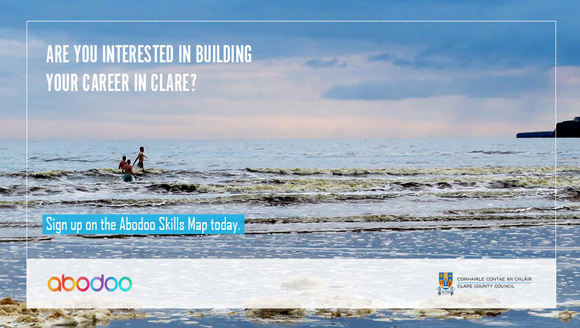 Page last reviewed: 22/06/21
Back to top
This is just for feedback on our web site, not comments or questions about our services.
To tell us about anything else, go to our contact us pages.