Introduction to householders guide to hazardous waste prevention
"Hazardous waste is any material discarded by a household, farm or small business which is difficult to dispose of or which puts human health or the environment at risk because of its chemical or biological nature". EPA 2009
Many people are relatively unaware of the hazardous nature of products they purchase even though the packaging will carry warnings and hazardous symbols along side the description of how to use the product correctly. Physical properties include being flammable, explosive or oxidising and these symbols are used on cleaning products, paints or oils. Other products may be more hazardous to human health and may have properties that are carcinogenic, mutagenic, toxic, corrosive, harmful, irritant or infectious and these are the symbols most commonly seen on labels
Other products will have properties that are hazardous to the environment and can damage the ozone layer, water courses or contaminate soil if used or disposed of incorrectly. Such products will have labels bearing the following symbol
A householders guide to hazardous waste prevention
Hazardous waste even in very small quantities can wreak environmental damage or cause threats to public health.
Environmental awareness about all types of waste, hazardous and nonhazardous has improved greatly in recent years and most of us would never dream of disposing of hazardous waste incorrectly by burning it, discharging it to sewers or water courses or illegally dumping it – all of which has of course happened in the past.
Waste in the Limerick Clare Kerry region
Ireland is well served with private companies that collect and treat hazardous waste on behalf of larger companies and organisations. However the disposal of hazardous waste can remain a problem for small businesses, farmers and householders. Luckily in this region we have a network of 14 household waste recycling centres and a full list of hazardous materials accepted at these centres is included at the back of the booklet.
Type of Household Hazardous Waste This is what it looks like
The most common types of hazardous waste presented at Civic Amenity Centres in this region are: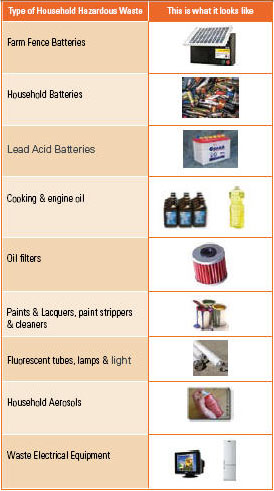 Destination of Hazardous Waste Exported
UK 34%
Germany 31%
Belgium 14%
Denmark 13%
Netherlands 6%
France 2%
Source: EPA National Hazardous Waste Plan 2008-2012
So what can be done to reverse trends in hazardous waste creation?
A starting point is Waste Prevention, after all the best waste is waste that is never created:
EU Waste Prevention Hierarchy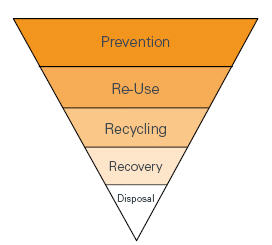 Although Civic Amenity Centres provide a solution for the safe disposal of hazardous waste from households, farmers and small businesses generated in this Region, the EPA's second National Hazardous Waste Management Plan (NHWMP) 2008-2012 estimates that over 29,000 tonnes of hazardous waste was unreported in Ireland in 2006.
The environment can be better protected if hazardous wastes are removed from the waste stream and treated separately by re-use, recycling, recovery and disposal. However we should also be aware that after collection almost 50% of Ireland's household hazardous waste is exported to Europe where it is then recycled, landfilled or incinerated. A key component of the EPA's NHWMP is to see Ireland become more self-sufficient in handling hazardous waste rather thanrelying on exporting it for treatment.
Once created, waste has to be treated and although recycling and energy recovery is infinitely better than disposal in landfill, in the case of hazardous waste we also have to remember that more than half of it is exported for treatment, which adds to the environmental cost.
So wha t can we do?
Preventing hazardous waste in an industrial context can be a challenge where the manufacturing process relies on hazardous components but what about at home, for small businesses and for farmers? Are there alternatives to hazardous wastes or are there ways to use products better so they have less of an impact on the environment?
Shopping ha bits & the power of advertising:
By nature we are creatures of habit sticking with the same products we have purchased and used before and we can be brand loyal. Alternatively we might feel powerless to make changes about the products we use, for example we might want to carry out house or garden improvements which will involve purchasing paints or lacquers, which carry hazardous symbols, but there isn't an alternative to paint or is there? Not exactly but all producers of common household hazardous products such as paints, cleaning products, garden products, medicines and personal hygiene products are making great strides to reduce the impact of their product on the environment. The next section of this booklet looks at every day products, their environmental impacts and cost effective alternatives.
Content Last Updated/Reviewed: 13/01/11