Recently introduced cyclist facilities in Ennis
Date issued: 11/08/17
Clare County Council wishes to remind motorists that improved cyclist facilities have been provided at a number of junctions in Ennis.
Motorists are asked to watch out for increased numbers of cyclists and pedestrians.
Roundabouts
On roundabouts where advance cycle lanes and circulating lanes have been introduced drivers and cyclists are reminded to note the presence of the Regulatory Sign RUS 009 (blue sign with cycle symbol) and road lining (white dashed line parallel to the kerb). These signs and lines indicate the presence of cyclelanes.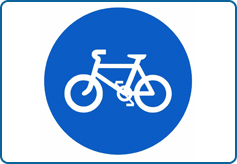 RUS 009 Pedal Cycles Only Road Sign
The sign W143 has been placed in advance to warn road users of the presence of cyclists.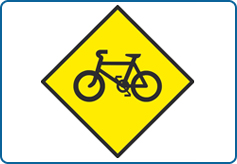 W 143 Cyclists Road Sign
Where two lane approaches have been converted to provide a short section of advance cyclelane and one entry lane to a roundabout, drivers are reminded that the single lane entry system should be used and they should not encroach on the advance cycle lane. Yield symbols have been marked at the yield lines on both the traffic lane and the cyclelane.
Where a cycle lane ends the sign RUS 009 with and END plate below it is provided. Drivers should note that cyclists will be emerging from the cyclelanes and sharing the lane with  motorised vehicles after  these END points.
The Rules of the Road apply to cyclists and drivers as they enter, travel around and exit a roundabout. See photos of cyclist facilities in use at a roundabout in Ennis.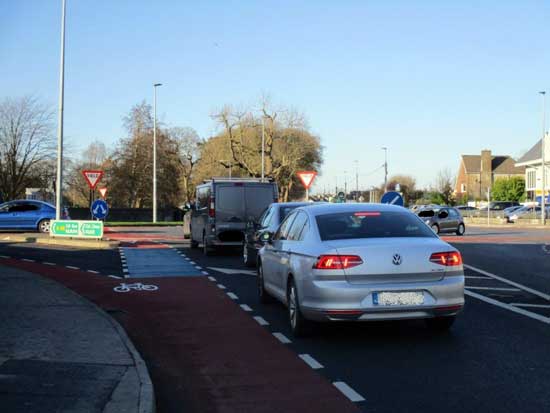 Vehicles Using the One Lane System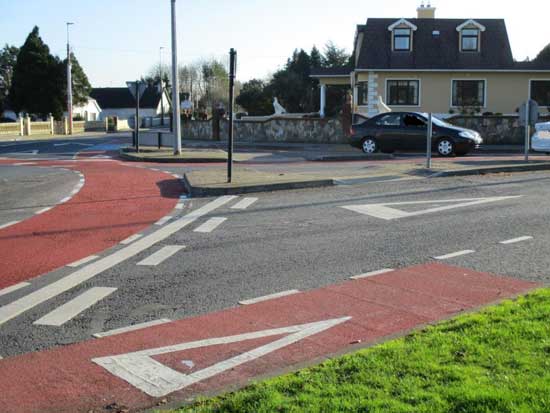 One Lane for Vehicles and One Lane for Bikes
Cyclelanes
On-road cyclelanes have been marked eg Clareabbey to St. Flannan's Roundabout. They can be edged with either a solid white line or a broken white line and are for the use of pedal cyclists only.
Regulatory sign RUS 009 indicates the presence of a cyclelane.
The Rules of the Road apply to cyclists and drivers.
Traffic signals
At junctions where advance cycle lanes and/or advance cyclist stop boxes have been provided drivers are reminded to stay behind the STOP line and to take account of the advance cycle lane locations.
The cyclist symbol has been marked in the advance stop box. See photo with vehicle  stopped in advance of the stop box.
The Rules of the Road apply to cyclists and drivers entering and exiting a signalised junction.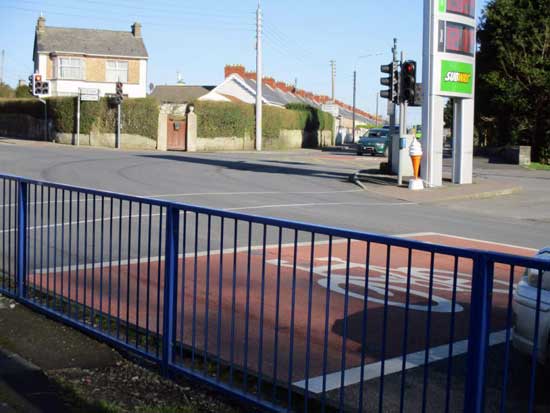 Advance Cyclist Stop Box
Content Last Updated/Reviewed: 11/08/17