Be Winter-Ready campaign
Date issued: 03/10/17
Be Winter-ready - be prepared, stay safe and know where to find help during severe weather. Visit the web site www.winterready.ie for advice on how to prepare for and cope during severe weather.
Visit www.flooding.ie for information about flooding.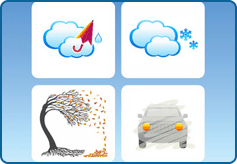 Severe weather challenges all of us. Activities that we take for granted can become difficult or even hazardous when severe weather occurs. However, by taking some simple steps you can reduce the impact of such events.
The 'Winter-Ready' Information Campaign, includes a www.winterready.ie web site which provides information on being prepared as well as practical advice for coping during episodes of severe weather.
You can also download the booklet, 'Be Winter-Ready' or pick it up at your local library or area office.
The www.winterready.ie web site and booklet also provide contact details and links to organisations and agencies that can provide guidance and assistance.
Be prepared, stay safe and know where to find help should you need it. 
Visit www.winterready.ie now for advice under these categories:
During severe weather events information will also be available on AERTEL page 592.
Floods are a natural and inevitable part of life in Ireland. They are usually caused by a combination of events including overflowing river banks, coastal storms or blocked or overloaded drainage ditches. Numerous severe floods have occurred throughout the country in the last decade.  Since the impacts of flooding are so devastating it is important that people whose properties are at risk take appropriate action to resist flooding.
It is widely anticipated that changes in rainfall patterns and rises in sea levels resulting from climate change may make such flooding incidents more frequent and severe in the future. While we cannot prevent the climatic causes of flooding, we can take measures to prepare for it and reduce the resulting damage and hardship. As well as the risk to life and the damage caused to property, flooding has many other, less tangible, impacts on people's lives. These include the loss of sentimental belongings, the nuisance of cleaning up after the flood, the inconvenience of having to live in temporary accommodation while this clean up takes place and the constant worry of future flooding. The www.flooding.ie website aims to provide practical help to all those whose homes or businesses may be at risk.
Content Last Updated/Reviewed: 03/10/17